Posted in
friday on my mind
on October 19th, 2010 by Rachael –
Be the first to comment
The Reef
Andrew Traucki & Michael Robertson
In 2007, producer Michael Robertson and director Andrew Traucki brought us horror/thriller croc feature Black Water and with it a model for low-budget, genre Australian movies. With shark film The Reef they take this one step further with a clever online strategy from the set and before to reel in audiences before cameras even rolled. Here they guide us through the new waters of online marketing.
Special guests:
• Michael Robertson – producer Prodigy Movies
• Andrew Traucki – writer/director (The Reef, Black Water, Rocky Star – TV)
Time: 5-6pm
Date: Friday, October 22
Event: Friday On My Mind
Venue: AFTRS Theatre, Fox Entertainment Quarter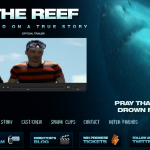 An inspiring AFTRS event bringing you face to face with the industry's brightest thinkers.
Free entry. All welcome. Join me for my last session of 2010!