this week at FOMM: Alice Bell
Creative Force
Alice Bell
Alice Bell is known for creating explosive and unpredictable characters, from the murderous "Hurricane" Katrina in Bell's first feature Suburban Mayhem which screened in Un Certain Regard at Cannes, to the risk-taking schoolgirl Violet, in last year's AFTRS film of the same name. She talks here about the importance of breathing life and surprise into a script, drawing from all of these projects and her next, Gin & Tonic.
Time: 5-6pm
Date: Friday, July 16
Event: Friday On My Mind
Venue: AFTRS Theatre, Fox Entertainment Quarter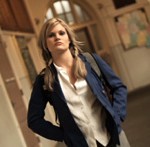 An inspiring AFTRS event bringing you face to face with the industry's brightest thinkers.
Free entry. All welcome.