this week at FOMM: The Waiting City
Foreign Correspondence
Claire McCarthy and Jamie Hilton
Likened to Monsoon Wedding and City of Joy, The Waiting City (starring Radha Mitchell and Joel Edgerton) is an ambitious depiction of a couple's growing intimacy with a city – and each other. I talk to writer/director Claire McCarthy (Cross Life, Sisters in Calcutta) and See Pictures producer Jamie Hilton about the performance and production challenges of bringing this relationship to the screen.
Time: 5-6pm
Date: Friday, July 2
Event: Friday On My Mind
Venue: AFTRS Theatre, Fox Entertainment Quarter
An inspiring AFTRS event bringing you face to face with the industry's brightest thinkers.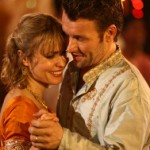 Free entry. All welcome.