Father of My Children
Writer/Director: Mia Hansen-Løve
Producers: Oliver Damian, Philippe Martin, David Thion
[In Australian cinemas August 26 through Palace]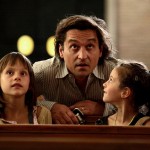 Serge: "Why do you work with Stig Jensen. Are you a masochist?"
Grégoire: "Did you see his retrospective?… Garden of Eden's a masterpiece."
Serge: "Never heard of it."
This dialogue from Mia Hansen-Løve's latest Cannes acclaimed feature is emblematic of both the film and a central plight at the core of modern cinema production: how to maintain integrity in an increasingly commercialised industry. That classic conundrum of art versus entertainment made all the more apparent by the GFC is the subject of this necessary and finely wrought film. Is film a commodity or cultural artefact? And who carries the debt of that decision?
Grégoire Canvel (Louis-Do de Lencquesaing) is a film producer whose slate is crumbling under the pressures of blown out budgets, testing auteurs and uncompromising financiers. This is compounded by the demands of three active daughters and an increasingly dissatisfied wife (Chiara Caselli). All very relevant for the Cannes Film Festival setting where it won last year's Special Jury Prize in Un Certain Regard.
The film abounds in subtle motifs such as the white sheep detailed in a church mosaic ("They're the believers," Canvel tells his daughters on a rare holiday outing) to Le Moutin Blanc bar outside the Canvel home; faith being one of its central themes. Also the marvel of creation, as witnessed through an impromptu play devised by Canvel's youngest daughters one evening.
It is from the joyous performance Hansen-Løve evokes in these children – a talent she exemplified in her César nominated All Is Forgiven (2007) – that the film's greatest success springs: combined with unfailingly realistic dialogue and considerable shooting in low-light conditions, the naturalism creates a sense of extreme intimacy with this man, his colleagues and his family; most of all an empathy with the juggle between all three. What happens to disciples when their guiding light goes out?