long live Lumina!
The Australian Film Television and Radio School has continued its "rethink" of the screen sector with the launch of its new film journal Lumina.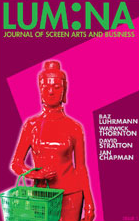 David Stratton cut the tape on what is a dedicated space for examination and rumination on the current state of the Australian screen sector – in particular, as the cover implies, the nexis between art and industry.
Lumina's editorial team comprises AFTRS CEO Sandra Levy, Head of Business Studies David Court, Head of Screen Studies Karen Pearlman and yours truly. The leading essay is by Baz Luhrmann.
Other contributions to the 180-page publication include select transcripts from Friday on My Mind, as well as from Andrew Urban's The Knowledge, genre essays including David Stratton's 'Origins of Horror', and Vincent Sheehan's argument for 'Why Australian Producers Should Think More Like Distributors'.
Stratton welcomed Lumina as a "journal that is provocative, insightful and entertaining."
Lumina will be sold at selected bookshops. Issue 2 is already underway – may there be many more.