Balibo
Director: Robert Connolly
Writers: David Williamson, Robert Connolly
Producer: John Maynard
[in Australian cinemas August 13 through Footprint Films]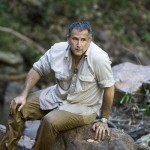 Robert Connolly and John Maynard (The Bank, Three Dollars) are renowned for their films with social conscience. Their latest, Balibo – sympathetic portrait of the invasion of East Timor (then Portuguese Timor) in 1975 and the six journalists who died reporting its leadup – is their bravest to date.
The film unfolds through devices organic to its themes – recorded interview, news clippings, reportage and documentary – as three different stories unfold ahead of each other: The narrative thread relating to the "Balibo Five" (Australians Greg Shackleton and Tony Stewart, New Zealander Gary Cunningham and Britons Brian Peters and Malcolm Rennie) is demarcated by a visual treatment typical of footage of the time. In their wake, is the story of the Australian journalist Roger East; and, bookending these, a modern day revisiting of events. Beneath all three storylines, none of which get ahead of the characters thanks to the great restraint shown by editor Nick Meyers, is the unrelenting sense of unease which owes much to the work of sound designers Emma Bortignon (Noise) and Sam Petty (The Boys), who are unparalleled in this country.
LaPaglia, who also starred in The Bank, plays the reluctant hero with understated grit, well supported by a talented group in Gyton Grantley, Damon Gameau and Simon Stone. David Williamson (The Year of Living Dangerously) does the story justice in a script of insight and ardor.
The film has an innate integrity. Whilst shying away from neither the violence nor the politics, nor does it exploit them. Whilst conceding the muddiness of political reporting, it seeks a purer truth; like an ANZAC myth from the '70s. With its ongoing relevance, this film is one the world should see. With the craftsmanship of its delivery, thankfully it will.