The Last Supper
If work drinks weren't unruly enough, all hell breaks loose when God is picking up the tab.
Look out for this riotous short written and directed by Angus Sampson and shot by the supremely talented Adam Arkapaw.
I haven't seen it yet but I have read the script and, knowing those concerned, am laughing already.
With cast & crew screening happening March 31 in Melbs, it won't be too long before we see it on the international circuit.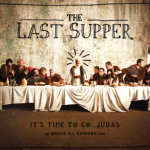 Miss it at your own peril.