Bertie Blackman: Secrets & Lies
Just in from seeing Bertie Blackman and Neal Sutherland (bass/keys) play at the Wharf Sessions. Totally blew my mind.
I've seen these guys perform over the years and even worked with them, so I know how they can raise the roof with complex tunes and the biggest little voice you've ever heard. But even I was unprepared for how much they have evolved with this new album.
Goldfrapp producer Lee Groves has served them well: from the palpable 'Heart' (watch out for clip produced by Diana Ward and shot by Bonnie Elliott) to more contempletive 'Sky is Falling', this album has not only guts but gravitas and is truly cinematic.
No longer Sydney's best kept secret, these guys have been featured on the soundtracks to Puppy, Feed, Feeling_Lonely? and Hey Hey It's Esther Blueberger.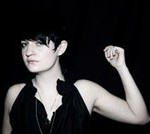 Secrets & Lies will be released in stores in May.